Updated: November 20, 2021 at 01:40
How it all started
On Sunday, September 26, 2021, I started up Microsoft Flight Simulator 2020 and spent the day streaming a flight of a Beechcraft King Air 300i from Edmonton Intl (YEG) to Toronto Pearson Intl (YYZ) with a fuel stop at Winnipeg Intl (YWG) to show the logistical nightmare it would be to have to transport a patient out of Alberta to Ontario for care. The Beechcraft King Air is the same plane that Alberta Health Services contacts to operate their eleven fixed-wing air ambulances. Over the course of the event I tracked the same plane in real life make four flights to various cities in the South Zone, Calgary, and Central Zone, transporting up to five patients during that time.
Folks were/are able to donate to the effort through Buy Me a Coffee or via Interac E-Transfer (DM me on Twitter for info) to avoid the service fees.
I set (what I thought was) a lofty goal of $600. This would cover a coffee for the teams in the Intensive Care Units (ICUs) in the Edmonton Zone. By the end of the stream we'd raised an incredible $1274.06 from 37 donors.
Those donors are: @nymama3, Trish, @lilygrimmer, Cindy, Marianne, Jillian, @ugillespie, @jjmckenz, @leomancini, Bonnie, Cait, @lorian_h, @nicoleorange74, @pathuot001, Angela, Janet, Leah, Heidi, @DiverDoc, ljf, @Bnkr_Chk2, Bev, Michelle, Anson, Chloe, @elisefarand, Jaen plus 10 anonymous donors.
Alberta's health care workers tirelessly empty their cups into their patients, it's important we help to refill theirs.
Post-Flight
I was blown away by the support post-flight. Folks have shared my delivery stories around Facebook and Twitter and we've raised a total of $6018.39 from a total of 171 donors. (Updated Nov 20 at 01:40)
On October 8th, we met and exceeded my goal of $5000. I can't thank everyone enough for their amazing generosity. This is making a great impact on the spirits in our hospitals. I haven't closed off donations but won't actively seek any more.
Those donors are: Marianne, Carol, Marion, RC35545907, Bimbimbop, @possibilitywork, Julie, Allison, Lindsey, @chandrakasper, @heathergayle, @angryABmama, Judith, Dave, @superschwagirl, Natasha and Wesley, @conductorange, Lisa, @riley__dawn, Chrissy, SJ, Darlene, @MeliBee44, @SueWithersDraws, @ejfudd, Erika, Roxanne, Mark, Elise, @JEbethechange, Cory, Laurine, @montgomary, G E, Melanie, Rhonda, @inglewitch, Amanda & Kevin, Sally-Ann, @aspen_tree_, @mcmannkrtaylor3, @japaequipment, @iammikebrazeau, Sho, RH, Dall, @ReneAAAllen, Maggie, Joe, @firstcoffeeyeg, Kay, @hoo99k, Dayna, @SkipIsChris, Jessie, @olsonshanew, Virginia, @dorothydawe, @fouririshlads, Jeff, Paulina, Drew, Velia, Dana, @stephpearlrobin, Jenn, Rhonda's Mom, @Norm, @LawrenceALim, @chuckwurster, @kimberleydeley, @litmasterg, @Wpg_Nana, Evelyn, Donna, @Homesteader86, Elizabeth, @TheEdmontonGal, @JValShuster, Brittany, Chris and Rod, @Twreck1031, Mackenzie, Sam, Heidi, Maggie, Marianne, @Murphnik, @conductorange, Brian K plus 31 anonymous donors.
Under the cover of night I started deliveries on Thursday, September 30th, starting with the hardest hit unit, the Royal Alexandra ICU. I intend on continuing to deliver the coffee cards at this hour to catch the night shift.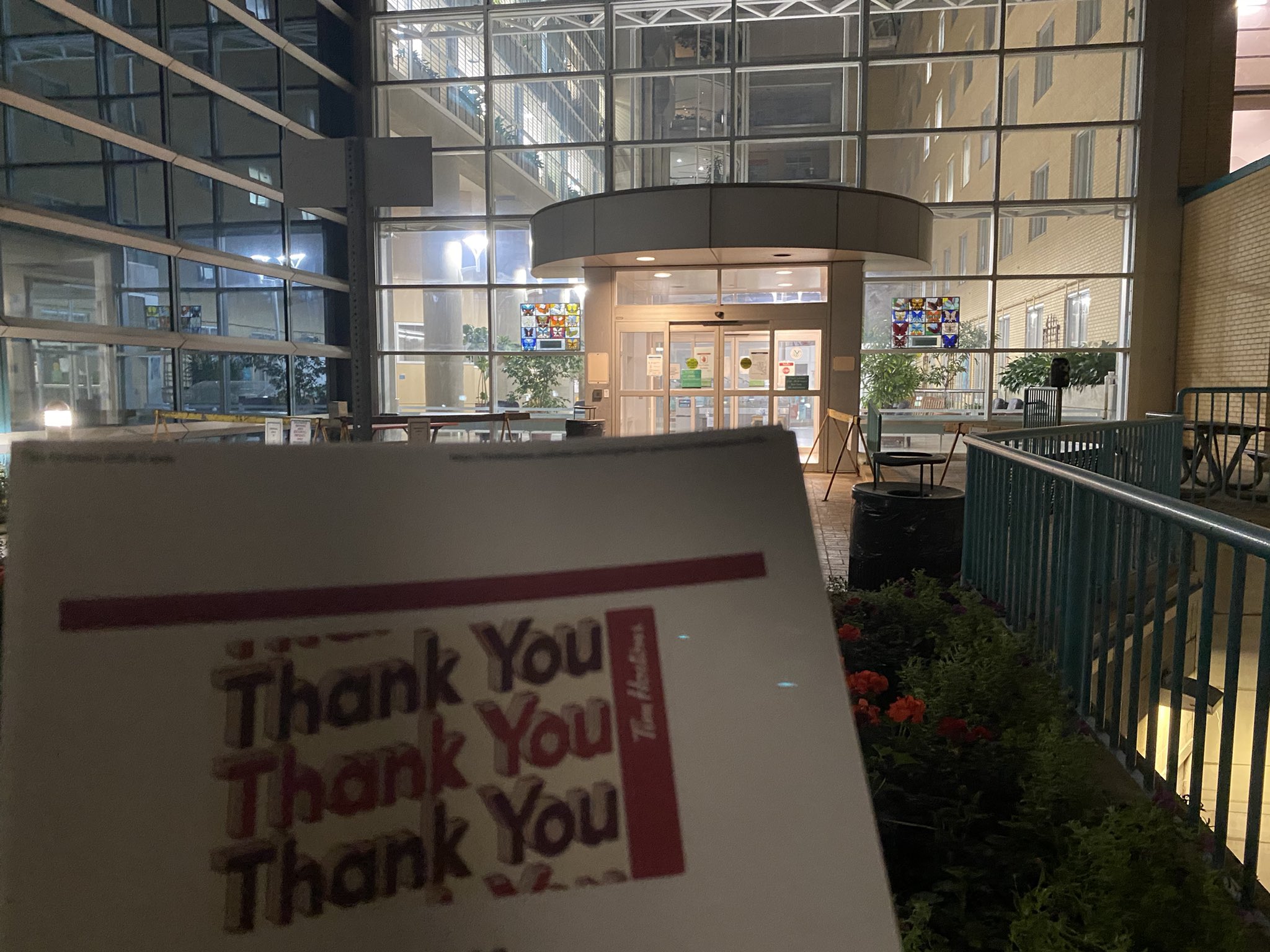 As of November 19, 2021 – the final tally – I've delivered $5550 in coffee cards (1180 cards) to 35 departments across the Edmonton and Central Zones:
Thank you to everyone who contributed to the fund! I am no longer accepting donations.

Interac E-Transfers also accepted, please DM me on Twitter.
Throughout this crazy journey it's important to know that I've always represented myself and only myself as a citizen. My views, opinions, this endeavour is of my own accord and not that of my employer. Without 171 of you, none of this would have been possible.
Nominate a Unit
As long as funds continue I would like to start a program to nominate a hospital unit. We know that many units across Alberta have been converted for intensive care. RNs and LPNs have been asked to do the unthinkable, converting from surgical, labour and delivery, and other care to intensive care. There isn't much for visibility on which units these are but I have a suspicion that Albertans do if we crowd-think this. Click here to access the submission form to nominate a unit for #CoffeeforHCWsAB. I'll list the units below as submissions come in.
Note: Nominations are now closed. Thank you everyone!
Nominated units:
Royal Alexandra Hospital: DOR/PACU (Tues, Oct 12)

This unit went from being the operating room post-anaesthesia care unit to a strictly COVID-19 unit. All of the staff are amazing and I know that it would be so appreciated there.

Northeast Community Health Centre: Emergency (Mon, Oct 11)

It is a small hospital and the numbers they see here are compatible to larger urban sites. The staff work so hard to keep the community safe during this pandemic. Regardless of how hard the day can be they always show up with a smile on their face ready to give it their best.

Foothills Medical Centre: Entrance Management

Nominee: Jen B.
Working with angry members of the public who are not allowed to visit their loved ones.

Royal Alexandra Hospital: Pharmacy (Fri, Oct 23)

Nominee: Theresa D.
They work so hard behind the scenes filling drug orders; some need to be made by special techniques using raw ingredients. These patients in ICU and Covid wards often need complicated medication treatments. This means more consults for pharmacists, more compounding and checking for technicians and more repackaging and deliveries for assistants. All done with the utmost care for patient safety.

Walter C. Mackenzie Centre (U of A): 3C3/3C4 (ICU) (Fri, Oct 1)

My mother was in the ICU in this unit for most of three months before she passed away on August 18, 2021 (due to non-Covid related issues). During our time there, we saw the extraordinary care those healthcare workers in that unit provided every single day. We also saw how exhausted they were, and, day by day, we saw staffing shortages and bed shortages as Wave 4 started, even in late July. My mother received world-class care there, despite all of the challenges facing the doctors, nurses and frontline healthcare workers. For that, my family and I are eternally and forever grateful.

Royal Alexandra Hospital: CVICU (Fri, Oct 15)

Longer shifts, staff shortages, higher patient load, not to mention dealing with anti-vax protesters outside the front door.

Sturgeon Community Hospital: Emergency (Mon, Oct 25)

Nominee: Donna S.
The staff at the Sturgeon ER including EMS is tired & overworked. Everyday they battle through the increased patient load and amped up safety procedures, in full PPE. Despite this they continue to go above & beyond, taking the time to reassure patients & family members and providing quick responses to emergencies. We experienced this first hand due to a recent 911 call that resulted in an ambulance trip and visit to the ER. Thank God the response was still fast & efficient. The paramedics were so reassuring. Love them!

RAAPID North (Thurs, Oct 14)

Nominee: Anonymous
RAAPID is a provincial service that assists physicians in connecting to specialist colleagues and in mobilizing patients around the province. During the entire pandemic, RAAPID has been working with many physicians and services, including the air and helicopter services, to assist in the load levelling of facilities. This group's workload and scope of practice increased significantly during the pandemic and they have been working tirelessly for the last year and a half to assist in offsetting the workload of their hospital colleagues by ensuring patients are transferred between facilities as seamlessly as possible. An essential service that is often not well known nor recognized.

Fort Saskatchewan Community Hospital: Emergency (Tues, Oct 5)

Nominee: Kevin C.
They don't get to stop. They are all so tired. I've spent a lot of time there this year due to gall bladder and newly diagnosed type 2. You can see how tired they are.

Walter C. Mackenzie Centre (U of A): 3D3 Plastic Surgery Unit (Wed, Oct 20)

Nominee: Anonymous
This unit has stepped up and become a covid unit during each one of the 4th waves. The nurses and staff have worked self lessly despite normally being a plastic surgery unit.

Walter C. Mackenzie Centre (U of A): Bed Coordinators Office

Nominee: Maddi D.
The bed coordinators and site managers are some of the hardest working people I have ever had the pleasure of working alongside. When the pandemic hit, admissions to the hospital increased, and subsequently, the number of beds available decreased. As the pandemic continued, they had to adapt and overcome many different challenges, such as non-COVID units being converted to COVID units (meaning fewer beds for our non-COVID services), morgue capacity and overcapacity protocols, longer stays in the ED due to lack of appropriate beds to put patients in, and so on and so forth. In the face of all this adversity, this team never gave up. I learned a lot from them, and I'm grateful to be able to work with them.

Grey Nuns Community Hospital: Emergency (Sun, Oct 24)

Nominee: Mackenzie B.
My friend works at the Grey Nuns in the ER, and boy has she been working a lot. A lot to the point where the basically lives there. The Grey Nuns is my community hospital, and the nurses in this unit are rockstars. There's nothing I want more than to put a smile on their faces!

U of A Campus: FM&E Project Team

Nominee: Lisa L.
Throughout Covid, this crew has worked tirelessly to accommodate all of the requests for installation of copious pieces of equipment being installed in the Provincial Lab and throughout the hospital. They were/are involved in the process of testing, moving and installing equipment required to increase bed and testing capacity. Although not on the front lines of patient care, they are definitely a 'behind the scenes' hero!

Walter C. Mackenzie Centre (U of A): 5D3/5D4 (Sat, Oct 30)

Nominee: Anonymous
Another group of covid units at the U. The staff are fatigued with all the losses, codes and constant putting on and taking off of PPE.

Stollery Children's Hospital (Mon, Nov 1)

Nominee: Maggie S.
In discussing with the nominee, the Royal Alexandra Hospital NICU (a wing of the Stollery) was chosen for this nomination.
My daughter is 4 months and has had her cleft lip surgery delayed past January. This surgery is normally done around 3 months, and hers won't be done until she's past 7. Thankfully, getting the lip repaired doesn't effect much other than cosmetics. However, getting this surgery delayed can effect all the rest that she needs.
The one I'm most worried about is her palate, without it she won't learn to speak.
All non-urgent surgeries and procedures (sic) that involve putting a baby/child under have been delayed until [past] January. I'd like to donate to the Stollery nurses who suddenly became adult nurses. Or worse, the ones taking care of children with covid. Taking care of children is very, very different than taking care of adults.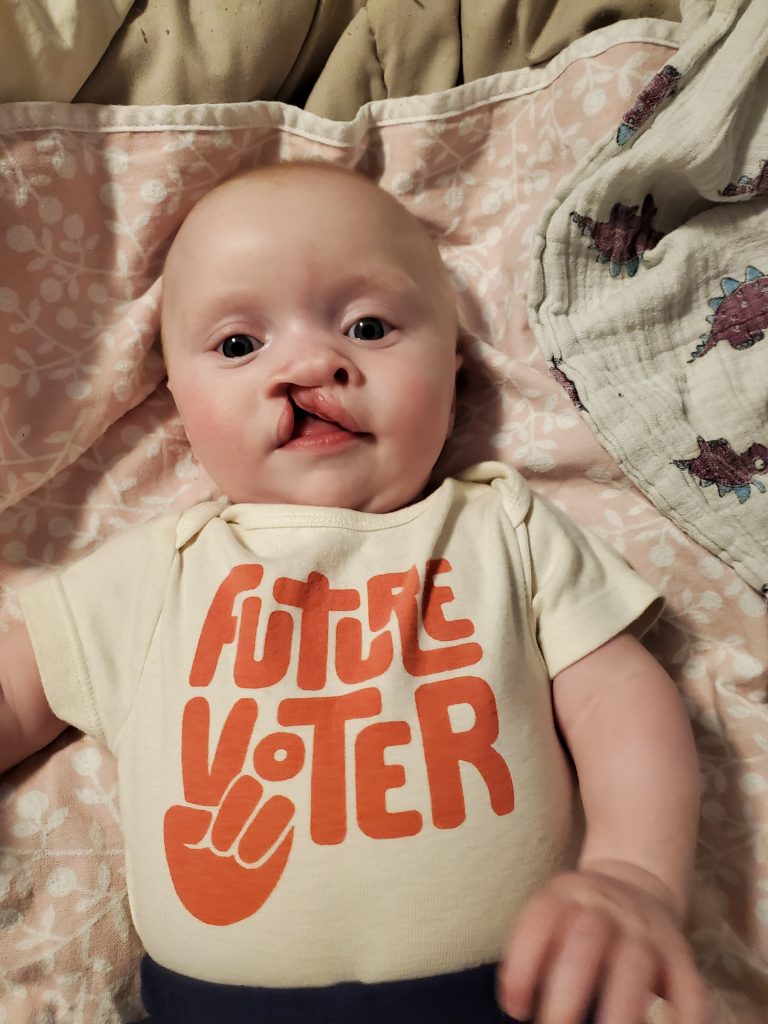 Walter C. Mackenzie Centre (U of A): 3A7/3A8 CVICU (Tue, Nov 2)

Nominee: Theresa E.
This already busy cardiac surgery unit has taken on a huge number of COVID patients on ECMO – the absolute highest level of life support. They have had to deal with so many patient deaths and delayed surgeries, with 1/3 fewer beds than usual as the non surgical cardiac ICU has also moved in after their usual unit became a COVID ICU.

Royal Alexandra Hospital: Unit 54 (Wed, Nov 3)

Nominee: Theresa F.
This is and has been the main Covid inpatient unit for the second, third, and fourth waves at RAH. Staff are very tired dealing with the very high acuity at all times on this unit. Staff are always friendly and always working with a smile on their face even when they are tasked to do so much all the time.

COVID-19 Vaccine Centres

Nominee: Darlene
While not on the front lines fighting the disease they are out there every single day trying to prevent it while fighting misinformation!

Walter Mackenzie Centre (U of A): 3C3/3C4 General Systems ICU (Fri, Nov 20)

Nominee: Brian K.
Brian would like this delivery be made in memory of his wife Mary-Ann, where the staff of 3C3/3C4 cared for her.
A heartfelt thank you to all the support staff at the U of A ICU. They really do run on coffee.
A Final Thank You
Thanks from the Front Line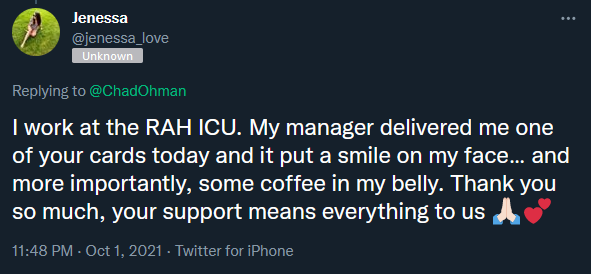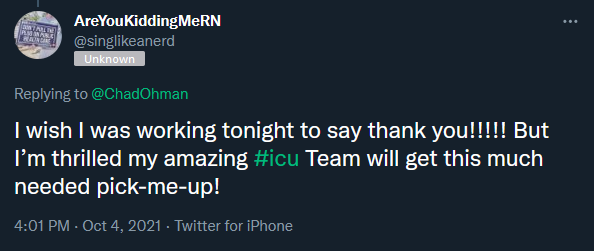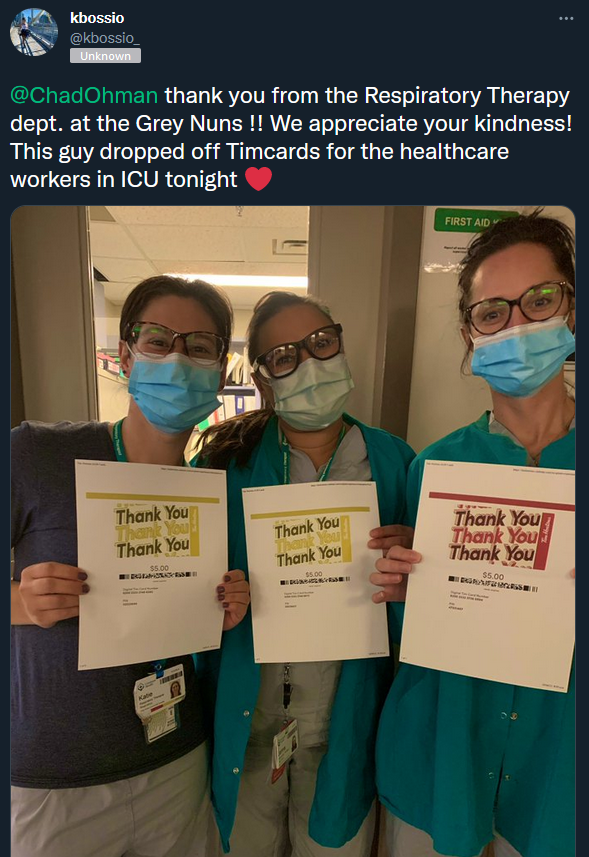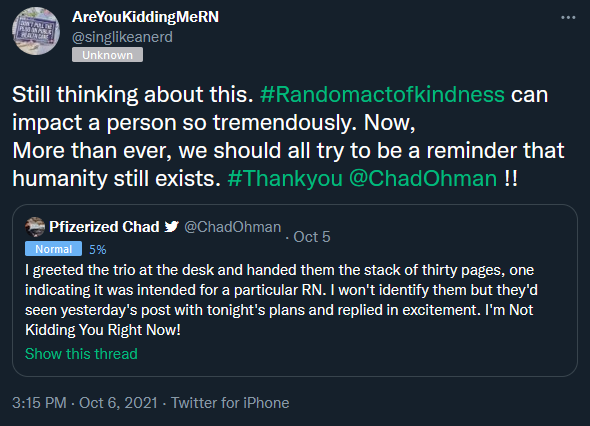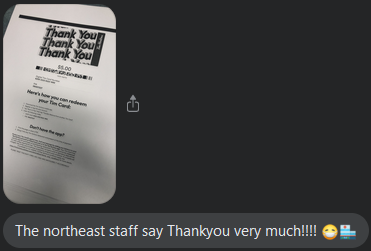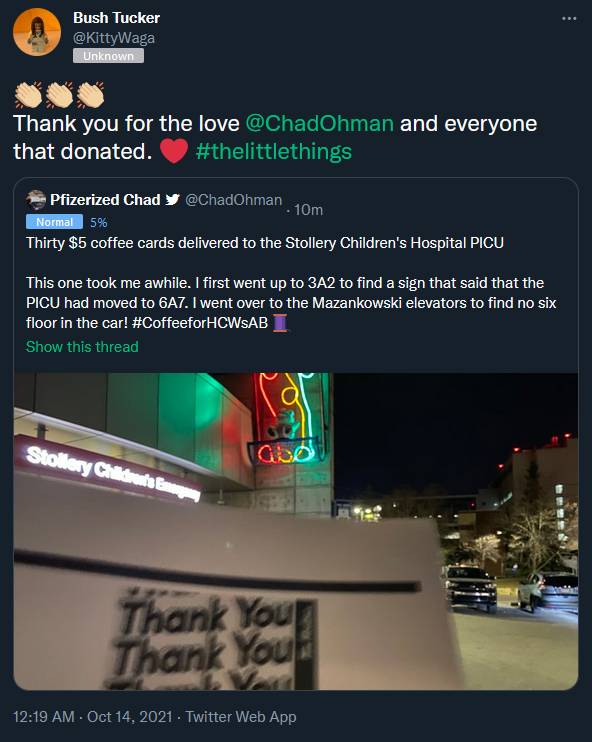 Media Headlines
One Man is helping hundreds of Albertans to say 'Thank you'
CBC Edmonton – Oct 10, 2021
Messages of Support
Besides being fully vaccinated, masked, & cautious this is the least i can do.

@Bnkr_Chk2
sending love and support to HCWs

@DiverDoc
Appreciate our healthcare workers! Hang in there!

Angela in Bonnyville
We're so grateful for all our health care workers! ♥️

Cait Barker
Thank you for all you do!

Trish
Thank you, thank you, thank you!!!

@nymama3
Thanks to all the amazing HCW's for your care, kindness, and hard work.

@westcoastich
You made our week with the report about the gift card delivery to RAH ICU, one of the units I worked on many years ago. Thank you from the bottom of our hearts. This support makes an incredible difference to morale.

Marianne
Thank you for everything, you all are heroes ❤️

Marion
Thanks to ALL staff doing their best under these dreadful conditions!

RC35545907
the Real MVPs of Alberta ❤️

Bimbimbop
Thank Heavens you are there…where would we be without you? I shudder to think. Thank you….we know youre there and I salute you!

Anonymous
we appreciate all your work more than can be expressed.

Julie
From the bottom of my heart, thank you.

Lindsey
Hang in there! Sending love and support!

@chandrakasper
I wish there was more we could do. You are saving lives and we appreciate you! Please take care of yourselves. 💜

@heathergayle
Dear HCWs, your work is so appreciated by so many!

@superschwagirl
Thank you for your courage to show up and work so tirelessly.

Lisa Losole
There are not enough words of gratitude 🙏

Chrissy Smith
Thank you HCWs for all that you do. Majority of people support you. 😍😍

SJ Savrtka
You are all incredible and appreciated more than you'll ever truly know.

Darlene Halsey
thank you for you committnent and your hardwork.

@ejfudd
thank you ♥️

Roxanne
We couldn't do this without you! Stay strong!

Elise Gilligan
thank you for the immense burden you are carrying and invalueable service you provide! We stand with you!

@JEbethechange
Please know that you're loved. I am so very, very grateful for the compassion and love you carry within your hearts. Stay strong, stay healthy, stay safe.

Laurine
I'm in awe of your strength and courage each and every day. Thank you.

@montgomary
Thank you hospital staff. We will always have your backs!

G E
Thank you for all you do!

Amanda & Kevin
HCWs, I want you to know again how much you are appreciated! Heroes!

Sally-Ann Mowat
Im so sorry that you have been put in this terrible situation of a completely preventable 4th wave. thank you so very much for not giving up and taking care of Albertans.. even when they dont always do much to take care of you.

@mcmannkrtaylor3
Hi Chad. My family would like to donate all 30 to one ward for their next shift. May they get just a few moments of comfort from a hot coffee… in exchange for the hours of comfort they tirelessly provide for their patients. Thank you.

Anonymous
We love our Edmonton doctors, nurses, RTs and healthcare workers!

@japaequipment
If it wasn't for the EMT's and the staff at the RAH ICU, my wife probably wouldn't be here today. I certainly owe them a lot more than a couple cups of coffee…

iammikebrazeau
Thank you, ICU nurses.

Sho
This is the smallest of tokens of my appreciation for everything HCWs do. I spent a few days in the RAH after shattering my ankle last winter, and the staff there worked so hard to make a tough period in my life better. From sharing their own lives in conversations, to getting me middle-of-the-night Jello, to listening to my worries of not being able to dance again, they went above and beyond what their jobs called for. Thank you all!

RH
Thanks for all that you do, you are so appreciated!

Dall
Cheers to Chad for enabling me to give a little thanks for the incredible work and sacrifices our YEG hospital staff are doing every day!

@ReneAAAllen
Think about you every day. Wishing all of you strength. 🙏

Kay Mulcaster
theres more good in Edmonton than you think. You are all doing amazing work!!♥️♥️

@hoo99k
I don't have the words to thank every single health worker who has put their heart and soul and expertise into taking care of us for the last two years, at great personal expense. Instead, I'll send love and kindness and a little bit of coffee. Thank you all.

Dayna
Pleased to make a contribution, just learned of this today! thank you to our health care workers! We see you and appreciate you!

@olsonshanew
…only wish more could be done to help HCW right now. Hoping a coffee makes things a tiny bit better.

Virginia Clevette
health care workers saved my brother's life in the third wave. Thank you, thank you, thank you.

@dorothydawe
sending love from Ontario to the health care support staff who are saving our asses.😘

@fouririshlads
Many thanks, you are deeply appreciated.

Anonymous
Thank you so much HCW's!!!

Anonymous
Many thanks, you are deeply appreciated.

Anonymous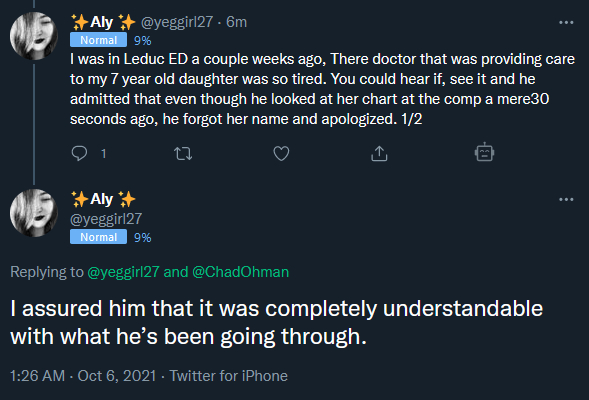 Love and respect from Calgary

Drew
Thank you for your selfless dedication.

Velia Watts
thank you for your dedication in the worst of times – so many benefit from all you do

Dana Turton

A small thank you to our heroes

@LawrenceALim
Thanks for doing this Chad. I work in the Strathcona Community Hospital Emergency Department and I know you are travelling there tonight. I'm not working tonight so won't see you but so happy you get to meet my amazing friends and co-workers. They are awesome do so much great work for Sherwood Park and Edmonton.

@chuckwurster
Thank you doctors and nurses!

@kimberleydeley
I can't even imagine the toll that the #intentionallycruelwave is taking on all of you, but thank you for stepping up to protect and care for all of us. You guys are heroes, and you shouldn't have to be so strong for all of us–but you're there doing it anyway, day in and day out.

@litmasterg
Our healthcare workers need our support now more than ever.💗

Donna Soetaert
We are so grateful for the tireless work of the AHS employees! THANK YOU to all of you.

Elizabeth Stolte
Grateful for all the tireless work by all AHS staff.

@TheEdmontonGal
Thank you so much for looking after so many. Words are not enough. Your dedication and compassion are so appreciated. I hope you enjoy the coffee!

@JValShuster
"Thank you for helping us help our healthcare heroes!"

Brittany Kunst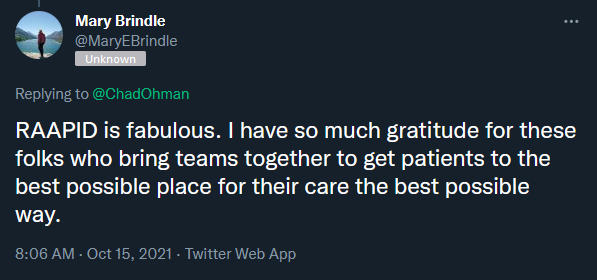 All health care workers are critical at this time and they deserve a big thankyou. We don't know when all this will be over however, all I can say is that I have seen very tired overworked healthcare staff and they need some hope and appreciation from all of us. A coffee that comes from the heart goes a very long way and is a fabulous idea.

Chris and Rod Forrester
Even with the dysfunctional government handling of the pandemic, our Healthcare Workers continue to go above and beyond. Thank you all for all you do to help your fellow Albertans.

@Twreck1031